We have decreased weight of bird feeder at 115g by perforation. You can print now without raft and supports! No more waste! Antlers connection has been improved and redesigned. We had added safety system. You just need some wire. We have made manual for installation.
Price : Free
2
Bird feeder for PET Bottle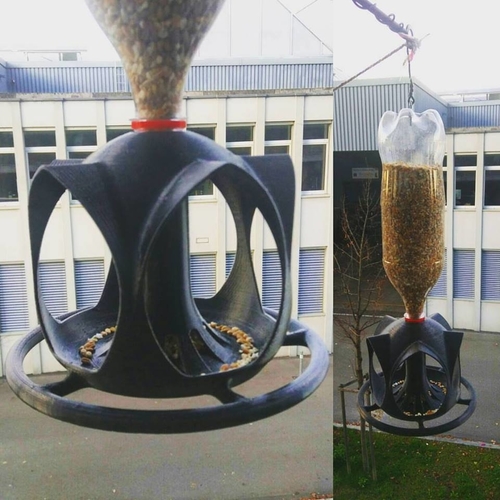 Price : Free
3
Peanut Butter Bird Feeder
This is a small Bird Feeder that uses Peanut butter and an Ikea pencil.  You can hang it with a screw or with two tie wraps (there are slots on the back)
Price : Free
Only a simple bird feeder that can be fixed to any flat surface with suction cups.
Price : Free
Give your feathered friends a welcoming roost with this new bird feeder. A new design with a drain and an evacuation in the back.
Price : Free
The model consists of five parts glued together with hot glue.
File \'birdfeeder_half.stl\' must to be printed twice. I printed it without the support, but the top part because of this was printed in the air and sag. The supports is necessary for the top part.
Price : Free
7
Bird feeder 3.0 - Put on window
IMPROVEMENTS from previous generation of Bird Feeder 2.0
It was divided in more parts. Less print fails.
You can configure your own colors
Perch connection has been improved
Antlers has been improved
All parts are connected by click system
BINDING:
Use this bird feeder with 2 sided adhesive dual lock tape on your window. For binding on window use this: http://www.g3.cz/katalog/suche-zipy-3m/dual-lock/3m-suchy-zip-dual-lock-sj3550
Price : Free
Prototype of a bird feeder that can be printed in one piece. It works, as one can see in the pictures, but needs some improvements. Especially the water drainage (inside the model) requires some additional thoughts.
Price : Free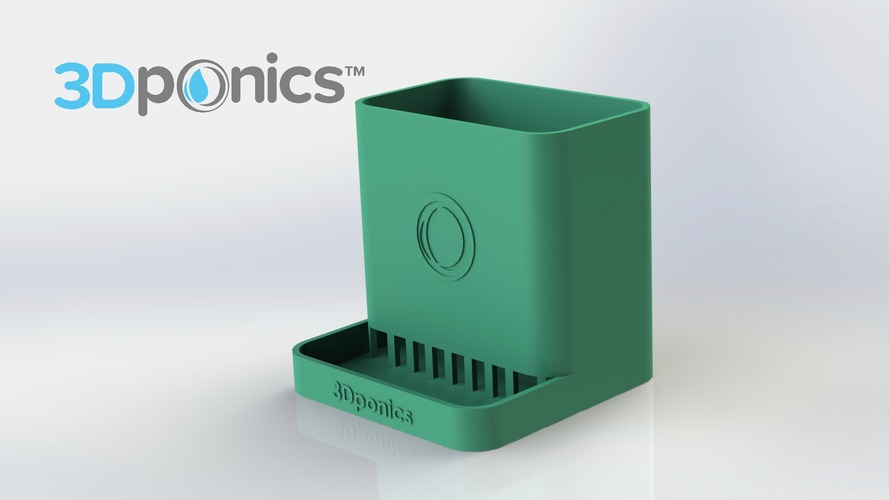 The Bird Feeder Container stores the food for the bird and can be hung on a wall with a simple nail. Know how to make this part better?
Price : Free
10
Wine Bottle Bird Feeder
Price : Free
The Microfeeder is a new innovation in hummingbird feeders. It has two special features that make this design superior to others. The first thing you might observe, is that this feeder is not open like most feeders. The bowl of this feeder has a tight fitting lid to keep out wasps and bees, which usually get stuck in normal humming bird feeders. The lid also makes this feeder rain proof and easy to fill. The most important feature of this particular design is the collection box. Most hummingbird feeders will hold sugar water once the birds have drank it down to a certain level. This causes mold and algae to grow rapidly inside the feeder. When liquid is left in a regular feeder for a long time, the mold and algae become very hard to clean off. But the Microfeeder uses the collection box design to drain every drop of liquid from the bowl. Also, the Microfeeder is designed so that even when the bowl is less than halfway full, there is still sugar water near tips of the flowers. This makes it easy for the humming birds to drink.
Price : Free
Our wooden bird feeder fell apart so I redesigned in and printed one. The bird feeder will print without any support. I printed the roof with a brim and manual supports added in Simplify3D along the roof line support beams.
Price : Free
Want to add onto this list?
This is an open list! If you feel like there is something worth being added, then you can submit below!
Submit Below!
Please fill out the form below. Once you're finished, then just click submit and you're done!
{{ alertMessage }}