1 Answers
If you are seeing error 16, 1008, or 1009, there may be an issue with your extruder cable. The extruder cable connects the extruder carriage to the 3D printer and transmits power and printing instructions to the Smart Extruder+.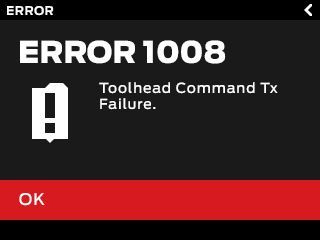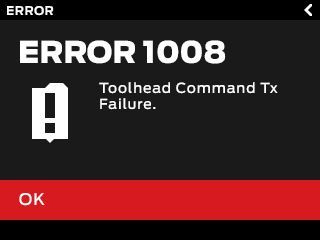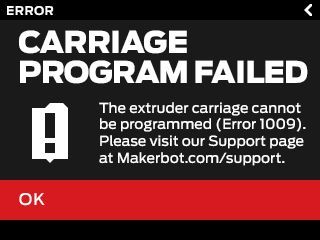 If you see one of these error messages, turn off your MakerBot Replicator Mini+. If you are in the middle of a print, wait for the extruder to cool before turning off your MakerBot Replicator Mini+. If you have MakerBot Print open, dismiss the error message dialog.
The extruder cable is a flat white flex cable that runs from the extruder carriage to the rear right corner of the printer. Check the cable where it connects to the extruder carriage.
if the connection to the carriage look straight and feel secure
If the connection is loose, use a small tool, such as a hex wrench to carefully push the connector into the port on the extruder carriage and make sure it is firmly in place.
It sounds like there's a problem with the cable. Please open a case with MakerBot Support. Make sure to include your shipping information and your printer's serial number.
Please login or Register to submit your answer