1 Answers
Follow the UI instructions and start the auto recovery process, after the recovery process if problem persists follow the below steps.
Unlock the Cartridge → Remove the Cartridge from the Printer → Go to Setting – Extruder mode and Press "100" as the transfer length and Press the arrow directed away from the Nozzle to remove the Filament completely from the printer.
→ Remove the Filament that is sticking out of the Cartridge(refer to the image below), Reassemble the Cartridge and begin loading the filament. If Notification 476 Occurs, Press "No" and repeat the loading process.
Cutting Filament Tip
 – When the ends of the Filament is sharp and acicular filament will run through easier.
  – Go to Setting – Extruder mode. Press "100" as the transfer length and Press the arrow directed towards the Nozzle.
Please make sure that the Filament is completely excreted from the Nozzle (If the Filament does not excrete from the Nozzle, Please Contact the Customer Service)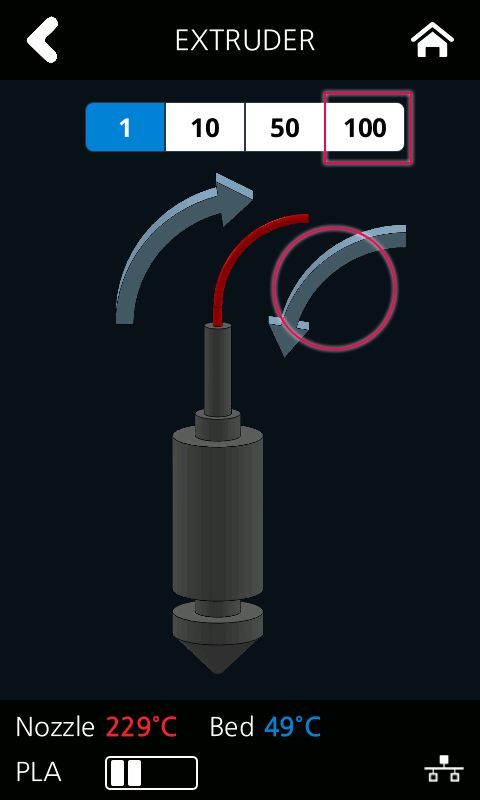 – Readjust the gap between the Bed and the Nozzle
   1) Remove the debris near the end tip of the Nozzle.
   2) Execute Setting – Bed Leveling
   3) Go to Setting – Z offset Menu to check and adjust the gap.(http://3dprinter.sindoh.com/VideoTutorial → refer to the 3DWOX Z Offset Setting video)
Press "Move" to adjust the gap between the Nozzle and the Bed and make sure that a paper with a thickness of 0.25 mm (Thickness of a Business Card or two sheets of paper folded) can pass through the gap. The optimal gap would be the paper slightly scratching the Nozzle tip.
If the paper cannot pass through the gap or does not scratch the Nozzle tip , Press "+/-" to change the gap value(increase in value results in larger gap), Press "Save" and then Press "Move" to recheck the Gap.
– Redo the printing. If the problems persist, please contact the Customer Service.